The 2018 season's first DialedInRacing.com Club Racing Experience at NHMS is in the books and we have three more on this year's schedule:
September 08-09, 2018 – Palmer Motorsports Park – Pig Roast + CRE
October 05-06, 2018 – Thompson Speedway Motorsports Park – NERRC Championship Weekend + CRE
August 04, 2018 – New Hampshire Motor Speedway – Cheap Date + CRE
If you've tried wheel-to-wheel racing in one of the budget endurance racing series or become addicted to track days (HPDE) and want to take your skills to the next level, participating in the CRE is perfect for you!  Sponsored by DialedInRacing.com in 2018, CRE events are a fun and safe place to learn and enjoy the thrill of wheel-to-wheel racing. Participating drivers attend mandatory classroom training to learn the rules, study the basics of race craft, and understand the framework of racing events. Interspersed with their classroom sessions, novices drive on track in a lower risk, less aggressive form of wheel to wheel racing to gain experience.
The first step in any exciting new adventure is always the most difficult one, but it's easier to start than you might expect. CRE participants must wear all the safety gear licensed competition drivers are required to use. With a grant from SCCA headquarters in Topeka and local sponsorship from DialedInRacing.com, we obtained four Pyrotect Helmets and HANS devices for loan to novice drivers participating in the CRE events. A loaner helmet and HANS device is just one of the ways we are helping reduce the cost of experiencing wheel-to-wheel road racing with the New England Region SCCA. The supply is limited, please make your plans to borrow safety gear in advance. If you don't already have a race car, you'll also need to borrow, rent or buy a moderately powered and fully caged race car that passes a safety inspection.  For more information about CRE you can look at http://www.ner.org/club-racing-experience/ and feel free to contact chief instructor Peter Morrison (603-493-2109 or MorrisonPeter47@gmail.com) if you have questions.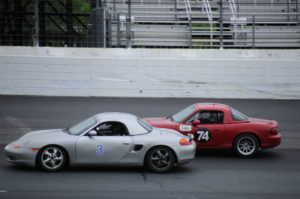 Our CRE sponsor DialedInRacing.com is an online retailer of safety gear and performance parts for motorsports enthusiasts. Their assortment of performance and safety products are carefully selected based on quality and functionality. DialedInRacing.com sells the best products to help improve your vehicle's driving dynamics and help make you a better racer. Follow them on Facebook @DialedInRacing. SCCA members receive a 10% discount when purchasing safety gear online athttps://www.dialedinracing.com/discount/DIRCRE.
#wannarace #funwithcars